Vault of Genius
Jerry Breaks into the Canadian Medical Hall of Fame
In partnership with: The Canadian Medical Hall of Fame
Using Nemo's secret code, super-spy Jerry Muskrat breaks through a vault door and steps into the Canadian Medical Hall of Fame in London, Ontario. There, he discovers how Canadians have improved the health of people around the world. One of the original ten laureates is Jerry's WW1 pal Frederick Banting, now a "Sir"! Jerry spots Bobby Raccoon slipping out of the vault, and heads inside to make sure nothing is stolen. There, he gets a crash course on several notable Canadian superheroes who have saved millions of lives!

Special note: we created this episode with the fabulous people at the Canadian Medical Hall of Fame.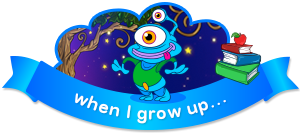 When I grow up... I want to be a health leader
Canada's health leaders and scientists are curious people who ask 'why' and 'how'. They are interested in discovering answers to important questions about how our bodies and minds work, heal and stay well. They work in teams and persevere even when things are difficult. They care about people – here and in the world - and they strive for better health, better care and healthy societies.