Summer of Love
Jerry Muskrat at Expo 67
In partnership with: Mirvish Productions
Jerry Muskrat finds himself in Montreal, and stuck in a time-loop! Jumping back to Expo 67, Jerry experiences Montreal in 1967, and the most successful World's Fair in history.

Join Jerry as he rows his way through the cities, towns and parks of the Great Lakes and Saint Lawrence Seaway in his series "The Greatest Lakes – a Jerry Muskrat™ Adventure!"

Jerry has packed his bags, rendered a raft, and is travelling through the world's largest freshwater Lake System. Did you know the Great Lakes hold over half of the world's fresh water? They are the heart of Canada and America's population and industry, and Jerry is going to meet the people, animals, and towns that make it happen, all while battling against the Invaders, animals intent on taking over the Great Lakes led by the evil King Karp.

KDOONS has created a new stage play about the Summer of Love, and all the years from 1945 - 1969, called BOOM!
It's an explosive theatrical event for the whole family ages 12 and up!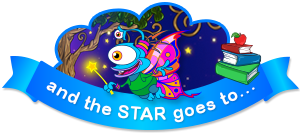 Kidoons thanks
Mirvish Productions
for supporting the
"Jerry Muskrat's Greatest Lakes Adventure" series:
Historical and Water literacies